You may already be aware of the fact that Nvidia has taken Qualcomm to court over the alleged violation of seven GPU patents, but what you probably didn't know was that Nvidia's own legal filings actually contained proof the HTC Nexus 9's existence.
As you can see below, Nvidia mentions several devices using the Tegra K1, including the HTC Nexus 9: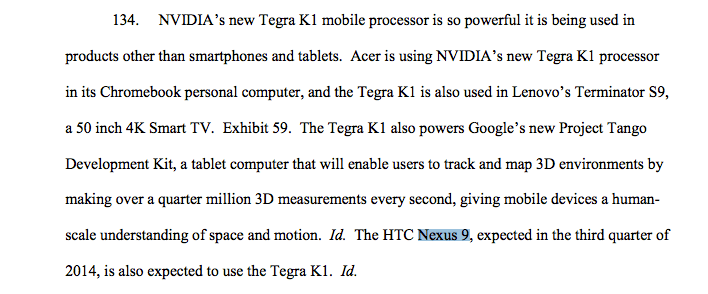 This single sentence actually sheds quite a bit of light on a few things. First, it confirms that the device will have an Nvidia K1 chip. Second, it mentions that the tablet will arrive in Q3 of this year. And finally, we now know the tablet will be called the HTC Nexus 9. Earlier rumors had indicated that the device might be called the Nexus 8, as the screen is somewhere between 8 and 9-inches in size.
If you had any doubts about the HTC Nexus tablet's existence, you shouldn't any longer. Of course, nothing is official until HTC and Google announce it, which could be happening soon enough. Excited yet?